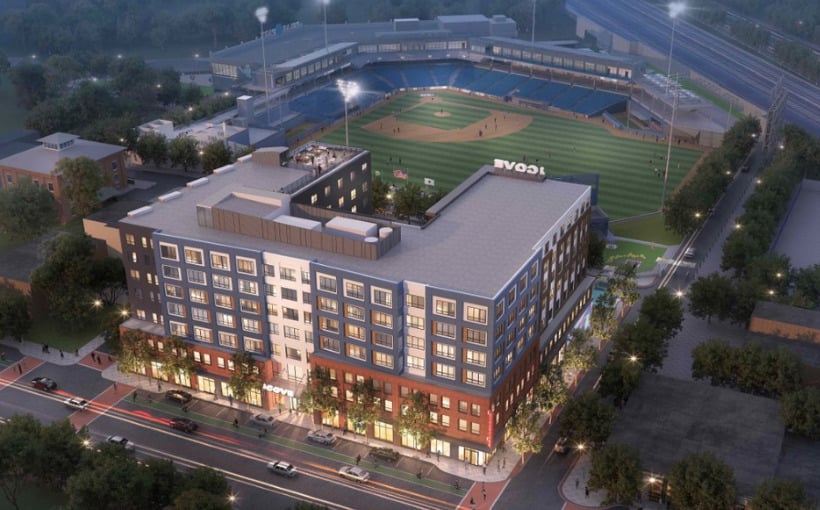 Boston, MA-based real estate developer V10 Development has broken ground on The Cove, a seven-story, 210,000 square foot mixed-use building located at 89 Green Street in Worcester, MA. The property's 173 apartments will overlook the minor league based team Worcester Red Sox's Polar Park.
The Cove, situated in Worcester's Canal District, will consist of 173 market rate apartments made up of studio, one-bedroom, and two-bedroom units with views into the stadium for games, concerts and other events. Additional property features include underground parking and 16,000 square feet of retail space with pizza restaurant and bowling venue.
"This project will turn vacant land and abandoned buildings into destination housing," said Josef Rettman, president of NEI General Contracting, which is serving as the project general contractor. "Worcester is one of the most competitive housing markets in the state with so much to offer residents."
The project team for The Cove includes:
Owner/Developer: V10 Development
General Contractor: NEI General Contracting
Architect: The Architectural Team / TAT
Civil Engineer: BSC Group
Geotechnical Engineer: McPhail Associates
Landscape Architect: Michael D'Angelo Landscape Architecture
Structural Engineer: EM Structural
Fire Protection, Plumbing, Mechanical, and Electrical Engineer: Wozny/Barber Associates
This article was originally published in connectcre on January 11, 2023. Click here to view the original article.